CHÂTEAU INFORMATION
Testimonials
Pure Magic!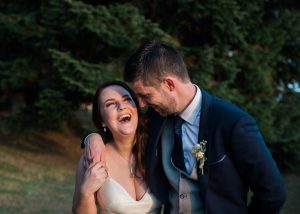 I don't even know where to start!!! 100% got my dream wedding because of the AMAZING family that run this incredible venue. We came from Ireland, randomly came across this venue and it simply blew us away. The gorgeous modern bedrooms, the stunning scenery, the beautiful building and surroundings, everything!! Apart from the wonderful venue, the reason we went to the venue 3 times prior to the wedding was because we loved being there and always felt so welcome. The family took us into their home with the warmest of welcomes. Abbie made planning the wedding so easy!! I'll actually miss working with her so much because she is a dream to talk to. The family are all incredible people and made our time there just perfect. All our guests are talking about the warm welcome they got and how they're all dying to go back again to Chateau du Doux. If you want a stress-free, perfect wedding there really is no other place like it. It's something out of a fairytale. Nestled on top of a mountain with a gorgeous pool! Heaven!! I had never met the family prior to looking for wedding venues in France and now consider each one of them family. Thank you for giving us and our family and friends the most magical week of our lives. I'll never forget it xxx
Jennifer & David (2019)
We couldn't have wished for a better wedding day!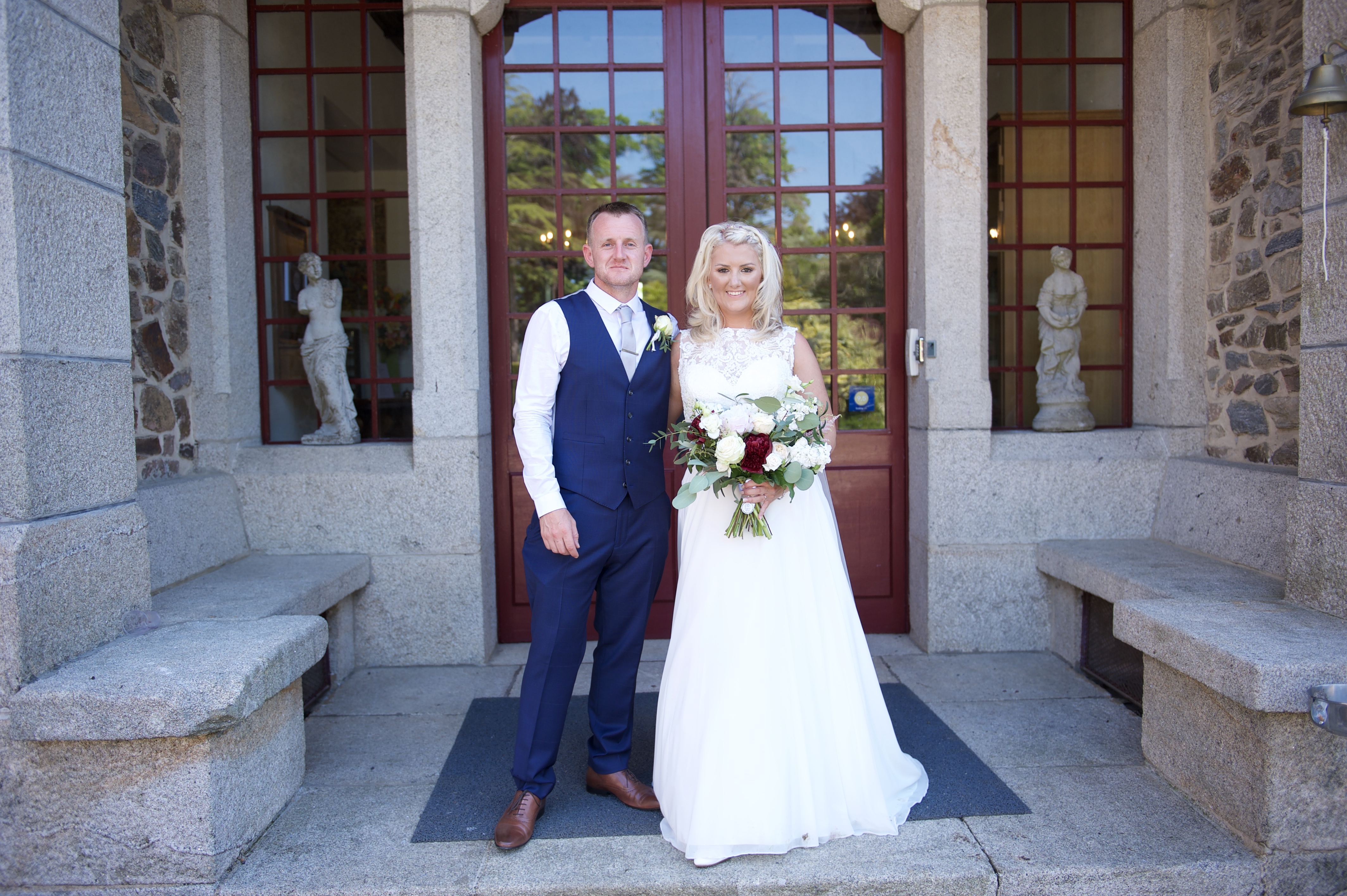 Where do I Start?????……THE BEST WEDDING VENUE EVER!!!
You honestly made all of our dreams come true & we couldn't of wished for a better wedding weekend/day!! You are such an amazing family & I honestly believe the venue wouldn't do as well without you & The Youngs! The venue is amazing but the hosts are even more amazing! You are one of the biggest selling points for Chateau Du Doux as honestly Abbie you are insane!! You deserve a medal!
I have dreamt of my wedding day for years & I honestly didn't think it would be as good as it was! From the moment we arrived to the moment we left I honestly couldn't of wished for anymore! The pool, the apartments, the Chateau, The view – it all just creates the best wedding venue!! I am so so glad that we came across you. Everyone has said how amazing it was. It makes me feel emotional when I think of our wedding day as I honestly had the BEST DAY!!!!
You guys should be so so proud of what you have achieved!
Chateau Du Doux will always hold a very very special place in our heart & we can't wait to come back!
Emily & Paul (2019)
There Aren't Words To Describe How Magical This Place Is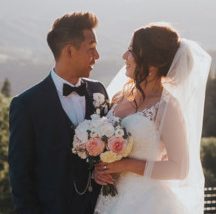 We had our wedding here in June and honestly there aren't words to describe how magical this place is. Even though we hadn't managed to visit before the wedding we decided to still go ahead because of the photos and already great reviews of the Chateau. And they definitely do not lie!
Coupled with the great weather, the views were absolutely stunning from sunrise to sunset. The rooms were spotless and the family paid attention to every last detail.
We decided not to go ahead with a wedding planner and it turned out that we didn't need one. Abbie was great help with all questions and queries over the course of planning and when we arrived, her and the family were so welcoming and catered or helped out for all of our needs. A special note to Karen and Clive who also were so nice and welcoming.
We stayed from the Wednesday to the Monday and everything went so smoothly, it was like a fairytale. We couldn't have asked for anything more. Food and drink can all be organised with the Chateau and the food standard is to the highest of quality. All of our guests could not stop praising the Chateau all weekend!
We just want to say a big thank you to you guys for making it the most special week of our lives. And to anyone reading this review, if you are considering having your wedding here, we cannot recommend it highly enough!
Thank you Clive, Karen and Abbie xx
Lots of love
Yan & Ada
Yan & Ada (2018)
The Perfect Wedding!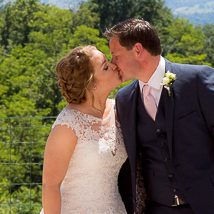 I know that everyone says they had the perfect wedding but ours actually was! There aren't enough superlatives to describe this amazing venue and wonderful family who run Chateau Du Doux.The attention to detail is spot on. Everywhere was spotless. The family are gradually refurbishing all the rooms across the Chateau and have completed several self-catering apartments in the adjacent building. The rooms are finished to a very high standard but even the ones not refurbed yet are clean and functional. The view from the Chateau is SPECTACULAR.
Communication with the Chateau (ie the family) was fantastic which is what you need when you are organising a wedding abroad. Abbie was always quick to respond to the many, many questions we had and as they are a British family I knew nothing was going to be lost in translation and meant we didn't need a wedding planner which would have been at great extra cost. The entire family were accommodating and welcoming. The caterers the chateau use are fantastic.
It is a big ask to your guests to travel abroad for a wedding and we were lucky that most could make it. As a wedding venue it is incredible value for money. We fell in love with Chateau Du Doux when we visited it in May 2017 when we were trying to find our wedding venue and boy did we make the right choice. We have fallen in love with it even more. Having all your friends and family under one roof in such a stunning location was magical, made possible by the incredible family who run it.
Victoria & Adam (2018)
The Chateau Is Just Magical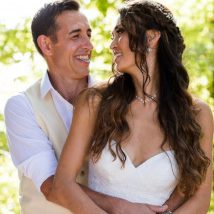 Elliot and I got married on the 18th August 2018. The owners of the chateau, Clive, Karen and Abbie were so helpful from day 1. They are truly the nicest, kindest people ever! The Chateau is just magical. Just like what you see in the fairy-tale. We had the best wedding and best time! All our guests were so impressed with the chateau and the location. We highly recommend this place to everyone who are planning get married. Thank you Chateau du Doux!!! Xxx
Rie & Elliot (2018)
Happy Memories At The Wonderful Chateau du Doux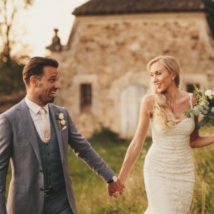 Michelle and I were married at Chateau du Doux Saturday 1st September having viewed the property one year prior. From the first contact with Abbie to organise a viewing up to and including the wedding weekend we could not have asked for more. Abbie and Michelle were in regular contact with Abbie constantly offering help and advise to make the process as easy as possible, the situation was made more problematic due to our logistical constraints as we live in Sydney. Despite this nothing was too much trouble for Abbie and this continued when we arrived at the chateau. The venue was better than we had even remembered and the whole weekend went without any issues or disappointments, resulting in the most perfect occasion.
The view from the terrace is absolutely idyllic with drinks and canapés on the lawn afterwards followed by an exceptional meal in the traditional yet contemporary dining room. For the evenings proceedings we chose to have the band set up overlooking the terrace and latterly moving into the marquee to party through the night. The ease of having everyone onsite was a huge plus point and something that helped alleviate any potential worries and all of the guests complimented all aspects of the chateau.
Almost 2 months on from our special we can look back grateful of all of our happy memories at the wonderful Chateau du Doux.
Michelle & Marc (2018)
I Love This Place!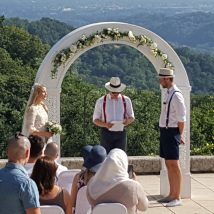 We hosted our wedding here, the place and venue could not have been more perfect. The owners are super accommodating and friendly. Pleasure to deal with. The catering service was amazing and everyone loved it… their rooms are beautiful, and I love this place! A gem…
Leticia & Benoit (2018)
What An Amazing Venue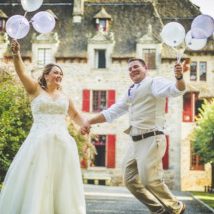 BEST TIME EVER-Hired the whole venue for our wedding at the end of August. Abbie could not be more helpful regarding booking, wedding planning and things to do in the local area. All the guests have said what an amazing venue this is and how friendly the Chateau du Doux family are. We are already planning on returning next year for a visit and in the long term, ALL the guests, want to return for our 5 year anniversary. I truly, cannot rate this place high enough. The setting is amazing, the cleanliness and standards of all the bedrooms and throughout this magnificent building are exceptional. Miss it already. Thank you so much Chateau du Doux family and see you all again soon.
Mellissa & Matt (2017)
Perfect Wedding Weekend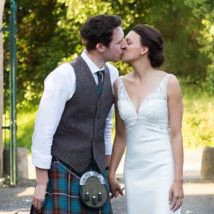 We genuinely can't thank you all enough for what was honestly our perfect wedding weekend. We loved everything about it, got to put our own style on it and got to enjoy it with such a wonderful family (that's you guys!). So thank you again for being such fantastic hosts.
Georgia & Scott (2017)
We Certainly Won The Lottery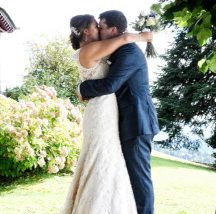 For an Australian couple to take the risk and book an amazing wedding venue in France for a large group of family and friends then we certainly won the lottery! Karen, Clive, Abbie and their beautiful family welcomed us and made us feel right at home. The stunning surrounding views distracted from the grandeur of the Chateau where my guests and I truly felt at home for the 5 night stay. No additional request was too much and the breakfast each morning was lovely. We had the most enjoyable stay at the Chateau but also ventured into the nearby town where there is everything you would need! Loved every minute of it, will hopefully return again as it was the best time ever!!!
Louise & Steven (2017)
Treasured Memories Forever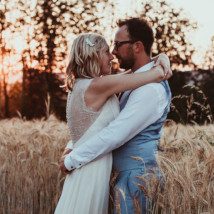 We can't thank you enough for all you did to make our wedding day and our whole stay as perfect as it was. We will never forget it! We couldn't have wished for a more amazing weekend together with our family and friends. We will treasure the memories forever.
Meggie & Gareth (2016)
Unbelievable Wedding Venue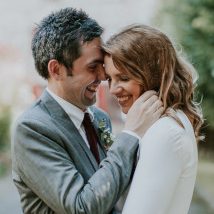 We got married here in June 2016. The venue was faultless and owners Clive & Karen were wonderful who went above and beyond what we expected. If you're looking for an unbelievable wedding venue, you've just found it!
Becky & Kenny (2016)
Fairy-tale Wedding At Château du Doux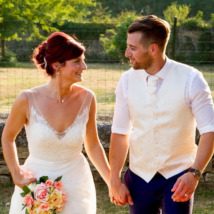 We had the fairy-tale wedding that every young girl dreams of at the Château du Doux. It was absolutely perfect from start to finish and Karen and Clive were both very accommodating and helpful throughout the planning and actual weekend of the wedding. We were very privileged to be the first couple to use the new bridal suite and one word "Wow!!".
Our beautiful wedding at the Château du Doux will always be engraved in our memories and also I'm sure of our friends and relatives.
Claire & Mark (2015)
Your Château Is Stunning, Welcoming And Comfortable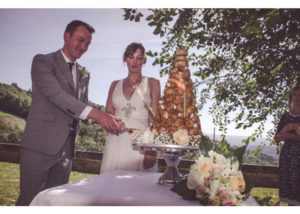 Hi Karen and Clive,
Paul and I wanted to let you know how thrilled we were with Roo and Steph's wedding last week. Your Château is stunning but at the same time welcoming and comfortable and makes it possible for your guests to relax in the most amazing setting.
The wedding was a true fairytale and has given us memories that we shall always cherish. We have had so many lovely comments from our family and I think everyone went away with a little glow!! The only problem that we have now is how to get back to normal life!
Thank you so much for everything, a bientot!!
Sue & Paul Gilmore (2014)
Château Is An Amazing Place With A Breathtaking View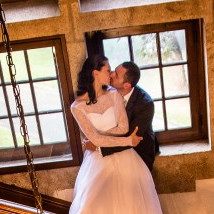 We would like to thank a lot Karen, Clive and their family for our perfect wedding and their dedication during this special event. Thanks to their efforts, the Château is an amazing place with a breathtaking view.
Some members of our family were also hosted in the apartments which are a haven of tranquility and softness.
The whole field is very well maintained and it was a real pleasure to share with our guests our passion for this French region and its heritage.
You are a lovely family and we hope to see you again very soon!
Maïlys & Nico (2014)
Our Wedding At Château du Doux Was Perfect From Start To End
Our wedding at Château du Doux was perfect from start to end. The venue speaks for itself, set in the French countryside this really is a dream venue. Our guests were amazed with the Château, which is as wonderful in the pictures as in real life.
The owners were extremely helpful throughout our planning process, allowing our planner to visit on many occasions, helping with local contacts and one year on even allowed us to go back for an anniversary picnic!
Jenny & Andy (2013)