CHÂTEAU DU DOUX
French Wedding Venue
Finding your perfect French Château Wedding Venue
If your vision for your unforgettable wedding day lies in France, why not consider a beautiful French Château wedding venue, a fairy-tale setting many people can only imagine.
Château du Doux is a family run business aiming to provide a unique and unforgettable service unlike any other. The Young family first fell in love with the Chateau in 2008 and have since invested all of their time, energy and love into renovating this amazing and unique building with the aim of making it an incredibly special destination wedding venue with a home from home feel.
With France known for its romance, planning your wedding in a French Chateau sounds like the perfect option, but often it can be difficult to know where to start! There are so many different venues out there and so many options to consider. To assist you with your venue search we've put together our thoughts on the 7 most important things you should consider when choosing your wedding venue:
1. French Château Wedding Budget
The primary consideration for your French château wedding has to be your budget, it goes without saying that a Château wedding is not going to be a low-cost option. Having said that, it is important you consider packages like for like and not just look at the overall figure.
With the average cost of a wedding in the UK reaching over £30,000 why not consider a different option, you can get a lot more for your money in France and turn it into a celebration that everybody will remember. At Chateau du Doux instead of a one day event, you can make your festivities into a weekend celebration accommodating all of your guests on site. With low cost airlines operating throughout France it is usually a comparable price for your guests to fly to France and enjoy 3 nights away, rather than attending a 1 night celebration in the UK.
At Chateau du Doux we specialise in weekend wedding packages, rather than a one day event which is over all too quickly! Our wedding package aims to be fully comprehensive and competitively priced putting the essential requirements in place but also giving you the freedom to be creative and work with additional suppliers of your choice.
Our top tip: To help with budgeting we suggest you ask your guests for a contribution towards their accommodation. Not only does this dramatically reduce the overall cost, but it allows your guests to experience a weekend away in which to fully appreciate the venue & surroundings and to cherish a slightly longer period with friends and family.
2. French Château Wedding Venue
When searching for a venue it is crucial you find one that is able to meet all of your needs and specific requirements, especially when planning a destination wedding. As your guests often travel from far and wide to share this moment with you, the quality and comfort of the venue is as important to them as it is for you.
Chateau du Doux was built in 1904 by an ambassador to France and designed by one of the world's leading 20th Century architects Jean-Louis Pascal. Originally built for entertaining foreign dignitaries our French château wedding venue boasts wonderful wood panelled function rooms and spectacular views over the Dordogne valley. The Chateau is set in secure private walled grounds with no close neighbours guaranteeing your privacy. Not only do we offer you exclusive use of the entire domain meaning that there will be no other guests on site, but unlike many other venues, the Chateau has extensive accommodation and is able to accommodate 70 guests on-site. This gives you the perfect opportunity to host a pre-wedding dinner and to enjoy a day relaxing by the pool after what we hope will be one of the most memorable days of your lives.
All in all from our experience the most important thing is that when you choose a venue you know it's "the one"- you feel that instant connection as soon as you lay eyes on it. If you find your dream venue everything else will just fall into place. We always feel honoured when couples choose to get married at Chateau du Doux, however we fully recognise that choosing a venue is of primary importance which is why we offer a complimentary visit as part of the wedding package so you can get a feel for the Chateau and its domaine before making this most important decision.
3. French Château Wedding Location
With France consisting of 22 different regions, all rich in culture and offering something different, deciding which area to get married in can be daunting.
Château du Doux, situated in south-west France, is located in the stunning Dordogne valley, boasting one of the most beautiful and popular destinations in the country. The Dordogne, is an entrancing region, best known for unspoilt landscapes, gourmet food and its warm and sunny climate. The Chateau is positioned perfectly overlooking the Dordogne Valley giving you the most idyllic location to host your outdoor ceremony.
Another great advantage of being located in South-west France is the ease and affordability of travel to and from the UK and Ireland with low cost airlines. Chateau du Doux is surrounded by a number of airports giving you and your guests many travel options. Brive airport is 45 minutes away, Limoges 1h30 away, Toulouse 2hrs away, Bergerac 2h30 away & Bordeaux 3hrs away.
4. French Château Wedding Planning
At first, the idea of planning a wedding in a foreign country in another language may seem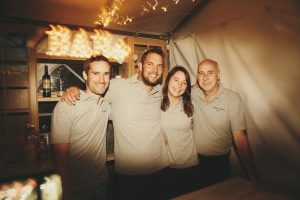 very daunting, this is why we believe it is important to find somebody who is knowledgeable about the French wedding industry so you can have faith in their ability to deliver your vision.
At Chateau du Doux, we are an English speaking, bi-lingual team meaning that nothing ever gets lost in translation. As the Chateau is our home, we know it intimately and therefore feel no one is better placed to advise you. This means that you don't necessarily need to use an external wedding planner resulting in a considerable cost saving.
We promise to work with you every step of the way and put all necessary suppliers and preparations in place prior to your arrival. This means that when your wedding weekend is finally here you can relax and take full advantage of it. Our aim is to enjoy the whole exp
erience alongside you, and if on the big day we are not raising a glass with you as friends, we have failed in our mission.
5. French Château Wedding Food & Drink
As well as being the country of love, France is also well known for its culinary excellence. When in France why not indulge in regional French cuisine? Imagine sitting watching a beautiful sunset over the Dordogne valley whilst enjoying a fine selection of local French cheeses and drinking high class wine. Let us not forget "la pièce de résistance", the traditional French wedding cake- the Pièce Montée. Also known as the croquembouche, a tower of profiteroles filled with vanilla, chocolate or liquor cream.
At Chateau du Doux, our aim is to offer you the full Chateau experience, your bespoke wedding meal takes place in our majestic wood panelled dining room whereas for days either side of the wedding we are able to facilitate alfresco dining. Why not enjoy either a delicious BBQ, French-style Buffet or Hog Roast so that you can make the most of good food, great company and sit and enjoy the warm evenings and picturesque views?
For your wedding day, we work with an exceptional English-speaking caterer. Savour homemade canapés served outside in the sunshine, sip delicious French sparkling wine followed by an excellent 3 course wedding breakfast menu. Our comprehensive menu allows you to choose 3 different options for your starter, main course and dessert meaning that you are not obliged to choose one set menu for all guests as this doesn't cater for all tastes. Our wedding package also includes a pre-stocked bar with a range of drinks including some of our family's favourite tried and tested brands.
6. French Château Wedding Weather
Most couples' biggest fear is for it to rain on their wedding day. That's why it's important to ensure your venue of choice has plenty of suitable back-up options just in case as unfortunately the weather is the one thing we cannot control!
Château du Doux, being situated in the South of France, will give you one of the best chances of that ideal wedding weather but it's also reassuring for you to know that the venue has a beautiful indoor function rooms and back-up options in the unlikely event of the weather being inclement.
It's also important to consider carefully which month you choose for you special day. At Chateau du Doux our wedding season runs from May until October and each month is unique and has something different to offer. May tends to be slightly cooler in the mid-20s but beautifully green with new growth and late-spring blossom. June is equally beautiful but slightly warmer as the summer heat builds. It gets much hotter and drier in July & August, usually in the mid to high-30s but sometimes even reaching 40 degrees! As we approach September with the onset of autumn the temperature starts to cool down and we enjoy stunning morning mists over the Dordogne valley. Finally, October, often overlooked in favour of the prime summer months but an entrancing month with magical golden light, and a magnificent variation in colours of the leaves on the trees.
7. French Château Wedding Local Area and Amenities
Finally, apart from the Château, you should also consider the local amenities and what the immediate area has to offer you and your guests.
Chateau du Doux is located 10 minutes from the picturesque, medieval town Beaulieu-sur-Dordogne. "Beaulieu" literally meaning beautiful place offers a comprehensive range of shops, bars, hotels and restaurants. Should guests want to explore the region a little more, the Dordogne valley has so much to offer: stunning hill-top villages, outdoor and sports activities for all ages, medieval castles & glorious manicured gardens, mysterious caves, gorgeous food and the refreshing waters of the Dordogne River.
So if your budget permits, why not consider "la belle France" for your special day? You have nothing to lose and everything to gain!